Page - Lake Powell Antelope Canyon
A few miles east of Page on the Navajo Reservation exists the most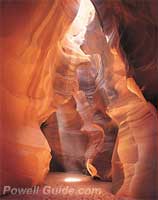 photographed slot canyon in northern Arizona. Over thousands of years, wind and water scoured a narrow crevice in the mesa to form a slot canyon in two sections.
Upper Antelope Canyon measures a quarter mile long and 130 feet deep. It is reached by traveling a 3 1/2 mile long dry¾most of the time¾sandy wash that runs south from State Route 98. Once at the entrance, it's an easy stroll through the upper chamber which is fairly level.
Lower Antelope runs north from State Route 98 towards Lake Powell. It is more strenuous since entry and exit requires climbing down and up ladders bolted to the canyon walls. Access to Antelope Canyon is restricted by the Navajo Tribe. Visitors must go with a licensed tour guide from Page or¾when available¾with the Navajo concessionaire at the gate.
Seen from the surface, a slot canyon appears as a slash in the mesa. From within, you find a palette of colors transmitted by light filtering down from above and bouncing from wall to wall.
Also known as Slot Canyon, Wind Cave, Grotto Cave or "The Crack," Antelope Canyon was first discovered in 1931 by a young Navajo girl who was herding sheep in the area.
Antelope Canyon has become a favorite destination for pro and amateur photographers, tourists and movie producers. The best light is at midday. Slow speed film, time exposures and tripods are recommended to get a great shot!
Only authorized tour operator companies can provide guide service to Upper Antelope Canyon.