Page - Lake Powell Recreation
Glen Canyon NRA offers numerous opportunities for both water-based and backcountry recreation. Click on the appropriate activity listed below to find out further information. Also listed are general rules, regulations, and safety information regarding certain activities at Glen Canyon. You should be aware that certain activities, as well as certain areas of the park, are governed by specific rules & regulations.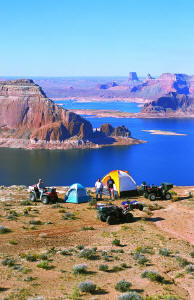 You are responsible for knowing and following all applicable rules and regulations.
Check Out the National Park Service Website for more information.